Increasingly, youth are interested in participating in discussions of sustainable development and solutions for climate change. However, consultations and high-level meetings can often fall short in meaningful engagement with youth. Currently, the Major Group for Children and Youth (the official voice for young people at the United Nations) only has one seat to contribute to the conversation during the High-Level Political Forum. Improvements are needed to increase youth involvement to be representative of this growing demographic that constitutes 40% of the world's population. Youth (people below the age of 25) are more educated, connected and politically active than ever before, and our future is closely linked with that of our planet. Youth should be recognized as essential stakeholders for sustainable development and included as co-designers of policies, programs, and plans.
Adequate youth representation is one of the topics the youth delegation I was a part of at the UN High-Level Political Forum. I am currently a Master's student at the Institute for Resources, Environment and Sustainability under the supervision of Dr. Jiaying Zhao. I am also working with UBC Botanical Garden, Dr. Tara Moreau and Dr. Zhao on research related to the Garden's Sustainable Communities Field School. I started in July 2018, and my research focuses on sustainable behaviour change. This summer I have conducted data collection for my thesis, which explores how botanical gardens can design educational programs to motivate action on climate change and sustainable development.
My research includes educating people about the United Nations Sustainable Development Goals (SDGs). The SDGs are the product of the world's largest consultation exercise and serve as a common vision of the world we want by 2030. They aim to promote shared prosperity, environmental sustainability and ensure that progress on sustainable development leaves no one behind.
Since March I have had the privilege of participating in the "SDG Bootcamp," a youth leadership training program for the SDGs. The bootcamp is organized by British Columbia Council for International Cooperation and aims to provide youth with the skills and knowledge needed to take action on the SDGs and provide opportunities for putting these skills into practice. During the first two retreats of the bootcamp we explored our personal connection to the SDGs and why we wanted to see a change in the world. What was unjust in our eyes, and where did the desire for change come from? By sharing our personal stories and vulnerabilities we were able to build trust and collaboration within the youth team. The training and experiences from these retreats served as a catalyst for the final retreat; a trip to New York City to attend the High-Level Political Forum (HLPF) at the UN Headquarters.
 The High-Level Political Forum
The HLPF is the UN's annual sustainable development conference and the main arena for assessing the global community's progress on achieving Agenda 2030 and the SDGs. I felt immensely privileged to be given the opportunity to represent British Columbian youth.
During the HLPF, my delegation hosted a side-event where we spoke about intergenerational equity and the SDGs. Intergenerational equity refers to future generations having the same rights as the present generation. We aimed to show this as a core principle within the SDGs, providing a voice for younger and future generations to inspire collaboration and accountability for action. We invited the Canadian official delegation to attend our event and with these government officials present, we called for intergenerational equity to be included in work towards Agenda 2030.
The event started with Eden, one of the youth delegates, doing a beautiful territory acknowledgment that included meditation and gratitude to the Lenape People, whose traditional land we were on. With this gratitude, we also opened up a space of mindfulness, vulnerability, and community. Throughout the event, we highlighted current good practices of implementing intergenerational equity implementation by governments, what it means as a concept within Agenda 2030, and what meaningful youth inclusion looks like. It was an incredibly powerful experience to sit down with government officials, delegates, and business leaders to discuss inclusiveness in the decision-making of a future that concerns us all. How could those in positions of power open spaces for youth voices? For the conclusion, we had asked a member of the official Canadian delegation to provide concluding remarks. In response to what we had been talking about, she abandoned her script and spoke from the heart about meaningful youth inclusion and intergenerational equity.
Why this is relevant to the Botanical Garden
We are all co-creators of the future. The SDGs can seem abstract and unachievable, so it is crucial to make the Goals relevant to individuals and communities. Their value as a framework for social justice and ecological sustainability requires them to be locally actionable and for people to be aware of them. At UBC Botanical Garden, this is exactly what we are working toward. Through displays of garden landscapes, TreeWalk adventures and programs such as the Sustainable Communities Field School we are promoting engaged citizenship by involving visitors and local businesses in critical conversations on biodiversity, water conservation, sustainable food choices and consumption patterns – all grounded in the SDGs. In this way, we hope to inspire our guests to go back and raise these conversations in their own communities and at their workplaces.
Botanical gardens are crucial allies in the move towards inclusive and sustainable communities. In order to achieve the SDGs we need to adopt new mindsets and values that are different from those that caused the situation we are currently in. Gardens are ideal spaces to foster a sense of belonging to our community, to build strong partnerships and spur local citizens for global goals.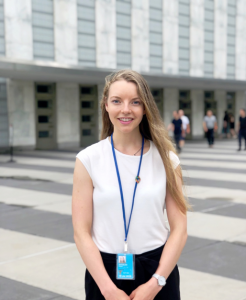 About Andrea:
Andrea is originally from Norway and moved to Canada in 2018 for her graduate degree. She holds a Bachelor of Arts with a double major in Psychology and Geography from the University of Melbourne. Andrea is broadly interested in advancing sustainable development through applied behavioral science. Her current research at UBC Botanical Garden focuses on behavioral interventions to motivate meaningful climate action. She believes in breaking down systemic barriers to allow for equal opportunities and a prosperous future for both people and the planet.
Submitted by: Andrea Byfuglien, MSc Student at IRES and UBC Botanical Garden