Whether you're in need of some holiday gift ideas or you're just looking for a new holiday read, shop our featured books available in the Shop in the Garden.

Evil Roots: Killer Tales of the Botanical Gothic
Edited by Daisy Butcher
British Library 2020 $20.95
Fourteen bloodthirsty, unsettling but alluring tales of killer plants, from writers of the nineteenth and early twentieth century, from Nathaniel Hawthorne's "Rappaccini's Daughter" to Emma Vance's "The Moaning Lily".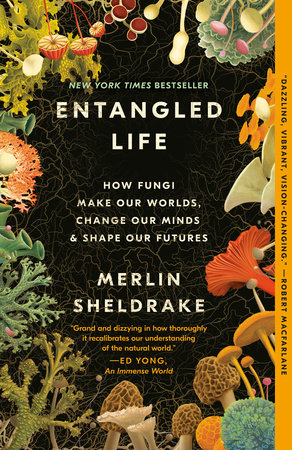 Entangled Life: How Fungi Make Our Worlds, Change Our Minds and Shape our Futures
Merlin Sheldrake
Random House 2021 $24.00
Fascinating, sometimes chilling stories giving us insight into this diverse kingdom of organisms, mostly invisible but inside us and all around us.

Plants of Coastal British Columbia: Including Washington, Oregon and Alaska
Jim Pojar and Andy MacKinnon
Lone Pine Publishing 2016 $32.95
The essential field guide to trees, shrubs, wild flowers, aquatic plants, grasses, ferns, mosses and lichens, providing descriptions of each plant's habitat and range, aboriginal and other local uses for food, medicine and implements, and the unique characteristics of each plant.

In Praise of Paths: Walking through Time and Nature
Torbjorn Ekelund
Greystone Books.2022 $22.95
What have we lost in an era of car travel and navigation apps, and what will we gain by taking to paths once again? A charming, contemplative read, encouraging us to slow down and pay more attention to the landscape.

Nature's Best Hope: a New Approach to Conservation that Starts in Your Yard
Douglas W. Tallamy
Timber Press 2020 $39.95
Step-by-step instructions on how to turn our yards into conservation corridors for wildlife habitats. As an entomologist, Tallamy clearly explains the crucial role that native plants play in the ecosystem: our insects and caterpillars, essential in sustaining our native wildlife, are in turn completely dependent on consuming our native flora.

Animals Brag about their Bottoms
Maki Saito
Greystone Kids 2020 $21.95
Guaranteed to tickle the sense of humour of children 3 to 7 years of age, who will learn about the shapes, sizes and patterns of the butts of a dazzling array of unusual animals (Malayan tapir, Japanese macaque, okapi. . .) accompanied by the bold, iridescent illustrations of Maki Saito.

Grow: a Family Guide to Plants and How to Grow Them
Riz Reyes
Illustrated by Sara Boccaccini Meadows. Magic Cat 2022 $28.99
Perfect for older kids 8 to 12 years of age who like to grow plants, whether in a garden or on a sunny windowsill. Riz Reyes provides cool facts as well: Did you know that lettuce was the first plant grown in space?