July is a beautiful time to be in the garden. Although there are still plenty of flowers, the exuberance of spring is beginning to wane, and it's time to enjoy the foliage, especially in the shadier parts of the Garden. The David C. Lam Asian Garden, the BC Rainforest Garden and Carolinian Forest Garden are cool, leafy havens. What better places to escape the heat of a summer day?
July 1st being Canada's birthday and our 150th since confederation, people naturally think about the Canadian flag and the maple leaf on it. It's actually a stylized sugar maple (Acer saccharum) leaf. Sugar maples produce maple syrup. We thought about the flag, too, and with the help of a geography student, created a map-guide to some of the maples in the Botanical Garden. This is in celebration of Canada, the flag, and of course, our collection of maples. The pamphlet lists thirty different maples and numbers them on a route around the garden. To be honest, there are only twenty-nine maples in the guide, and one maple look-alike. Each of the maples has, hanging in a prominent position, a red Canadian flag maple leaf. The tour is really a taster of sorts: we actually have more than sixty different maples in the Garden.
Maple leaf signs can be found throughout the Garden
Most of the maples in the Gardens' collection are Asian, and nearly all of them are plants grown from seed of documented wild origin. Our most important maple in terms of conservation value is the five-fingered maple (Acer pentaphyllum). You can read all about that on our website—it's under the Research and Collections tab. Click on Plant Collections, then on Acer in the list of the Garden's Significant Collections. It probably goes without saying that many of our maples are exceptionally beautiful trees. Although leaves are the subject of this month's blog, it's hard to ignore the bark on some of our maples. Perhaps the most attractive bark belongs to the snake-bark maple group.
Our snake-bark maple collection is rated as one of the best in North America and our extensive collection of Pere David maples (Acer davidii) in particular, is worth remarking on. Regular visitors to the garden will recognize Pere David's maple for its dark green, unlobed, elliptic leaves and vertically-white-striped, smooth green bark.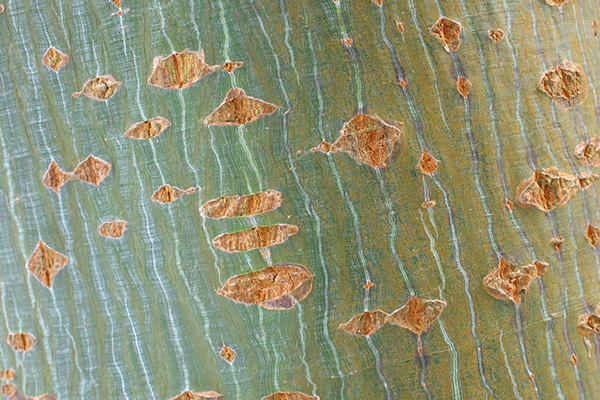 Acer davidii bark
It might seem like overkill, but the Garden has eighteen different accessions of this species alone (accessions are plantings derived from separate collections). Acer davidii is the most widespread of all Chinese maples, and representing the diversity of the species is an important aspect of our collections policy.
Acer davidii leaves comes in a variety of shapes, sizes and textures.
Our collections range from Peter Wharton's Guizhou collection, which has leaves almost 25 cm long, to a collection from Sichuan that bears leaves no more than 7 or 8 cm long. In northern-central China, A. davidii plants often display very white-waxy stems and have leaves that are conspicuously lobed. These plants are sometimes known as A. grosseri (Grosser's maple). There are similar looking plants in the south of China, attributed to A. metcalfii (Metcalf's maple).
UBC Botanical Garden has more than sixty different maples in its collection.
We have representatives of all of these plants growing here in the Garden, and although most people would think we're planting beautiful maple trees for the public's enjoyment, it is an important aspect of our research on snake-bark maples. Such a planting amounts to what is known as a "common garden" experiment. Rather than comparing plants from different environments in the wild, in the garden there is a relatively consistent environment for comparisons of overall growth, leaf, flower and fruit characteristics, and of cold hardiness. Sorting out plant relationships is part of the research we continue to pursue at UBC Botanical Garden and we're more than happy to show it off.
Submitted by Douglas Justice, Associate Director, Horticulture & Collections, June 28, 2017